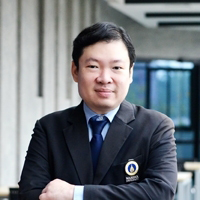 Assoc. Prof. Vorasith Siripornpanich, M.D., Ph.D.
Dip. Thai Board of Pediatrics
Dip. Thai Board of Pediatric Neurology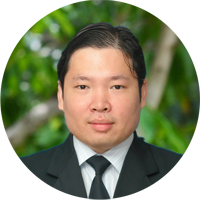 Ph.D. (Neurosciences), Mahidol University 2019
Diploma Thai Board of Pediatric Neurology, Mahidol University, 2008 / Diploma Thai Board of Pediatrics, Mahidol University, 2006
Ext:1206
Email: vorasith.sir@mahidol.ac.th, drvorasith@gmail.com
Research interest:
The good quality of people is the most important factor for national development, so I and my research group plan to answer the question "how to improve the cognitive abilities in Thai people". At human level, we have been interested in using electrophysiological tools for evaluation of cognitive functions in clinical cases as well as to compare before and after specific intervention program. Electrophysiological tools such as EEG (Electroencephalography), EP (Evoked Potentials), and ERP (Event-Related Potentials) can measure electrical activities of the brain with excellent temporal resolution and able to show information in each brain region under defined condition. We use this equipment for evaluation of the brain functions in normal population as well as neurological and psychological patients including epilepsy, schizophrenia, and autism spectrum disorder. These electrophysiological techniques can be used to compare human cognition before and after neurological intervention such as effects of essential oil inhalation or musical sound learning on attention / concentration domain of cognition. Thus this information from electrophysiological tools provide us a solid data of brain functions and can be integrated with anatomical and molecular data from experimental animal model leading to the knowledge of "functional localization" of cognitive brain areas and also factors that can improve cognitive function in Thai people.
Selected Publications:
Siripornpanich V, Rachiwong S, Ajjimaporn A. A pilot study on salivary cortisol secretion and auditory P300 event-related potential in patients with physical disability-related stress. Int J Neurosci. 2020;130(2):170-175.
Siripornpanich V, Visudtibhan A, Kotchabhakdi N, Chutabhakdikul N. Delayed cortical maturation at the centrotemporal brain regions in patients with benign childhood epilepsy with centrotemporal spikes (BCECTS). Epilepsy Res. 2019;154:124-131.
Siripornpanich V, Sampoon K, Chaithirayanon S, Kotchabhakdi N, Chutabhakdikul N. Enhancing brain maturation through a mindfulness-based education in elementary school children: A quantitative EEG study. Mindfulness. 2018;9(6): 1877–1884.
Sayorwan W, Ruangrungsi N, Piriyapunyporn T, Hongratanaworakit T, Kotchabhakdi N, Siripornpanich V. Effects of inhaled rosemary oil on subjective feelings and activities of the nervous system. Sci Pharm. 2013;81(2):531-42.
Sayorwan W, Siripornpanich V, Piriyapunyaporn T, Hongratanaworakit T, Kotchabhakdi N, Ruangrungsi N. The effects of lavender oil inhalation on emotional states, autonomic nervous system, and brain electrical activity. J Med Assoc Thai. 2012;95(4):598-606.
Full Publications
Klomjai W, Siripornpanich V, Aneksan B, Vimolratana O, Permpoonputtana K, Tretriluxana J, Thichanpiang P. Effects of cathodal transcranial direct current stimulation on inhibitory and attention control in children and adolescents with attention-deficit hyperactivity disorder: A pilot randomized sham-controlled crossover study. J Psychiatr Res. 2022;150:130-141.
Kraiwattanapirom N, Siripornpanich V, Suwannapu W, Unaharassamee W, Chawang O, Lomwong N, Vittayatavornwong L, Chetsawang B. The quantitative analysis of EEG during resting and cognitive states related to neurological dysfunctions and cognitive impairments in methamphetamine abusers. Neurosci Lett. 2022;789:136870.
Thavornpaiboonbud N, Siripornpanich V. The effects of positive emotional gesture guidance on speech sound discrimination in Thai children with ASD: A mismatch negativity study. Songklanakarin J Sci Technol. 2022; 44: 496-502.
Ajjimaporn A, Noppongsakit P, Ramyarangsi P, Siripornpanich V, Chaunchaiyakul R. A low- dose of caffeine suppresses EEG alpha power and improves working memory in healthy University males. Physiol Behav. 2022;256:113955.
Sivaphongthongchai A, Sayorwan W, Siripornpanich V, Palanuvej C, Kanchanakhan N, Ruangrungsi N. The effects of d-camphor inhalation on psychophysiological parameters among healthy participants. J Public Hlth Dev. 2022; 20: 96-107.
Intamuen N, Chaiwutikornwanich A, Siripornpanich V. Comparisons between recidivists and non-recidivists on affective, behavioral, and P300 brain activity. Songklanakarin J Sci Technol. 2021; 43: 1527-1534.
Chaithirayanon S, Chaisansuk J, Siripornpanich V. The study of maternal and neonatal complications in teenage pregnancy. J Med Assoc Thai. 2021;104:9-14.
Kaewcum N, Siripornpanich V. An electroencephalography (EEG) study of short-term electromyography (EMG) biofeedback training in patients with myofascial pain syndrome in the upper trapezius. J Phys Ther Sci. 2020;32(10):674-679.
Ajjimaporn A, Ramyarangsi P, Siripornpanich V. Effects of a 20-min Nap after Sleep Deprivation on Brain Activity and Soccer Performance. Int J Sports Med. 2020;41(14):1009-1016.
Sayorwan W, Phianchana N, Permpoonputtana K, Siripornpanich V. A Study of the Correlation between VEP and Clinical Severity in Children with Autism Spectrum Disorder. Autism Res Treat. 2018 Jan 14;2018:5093016.
Ajjimaporn A, Rachiwong S, Siripornpanich V. Effects of 8 weeks of modified hatha yoga training on resting-state brain activity and the p300 ERP in patients with physical disability-related stress. J Phys Ther Sci. 2018;30(9):1187-1192.
Ananchaipatana-Auitragoon P, Ananchaipatana-Auitragoon Y, Siripornpanich V, Kotchabhakdi N. Protective role of taurine in developing offspring affected by maternal alcohol consumption. EXCLI J. 2015;14:660-71.