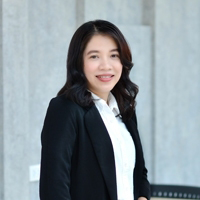 Wannapa Sornjai, Ph.D.

[widget id="cool_tag_cloud-2″]
Ph.D. (Molecular Genetics and Genetic Engineering), Mahidol University, 2017


Ext. 1374
Email:  

wannapa.sor@mahidol.ac.th


Field of Research:

Mosquito-borne viruses such as dengue virus, Japanese encephalitis virus, Chikungunya virus and Zika virus are important human pathogens. These viruses are highly prevalent in mosquito endemic areas and cause a significant public health problem in many countries including Thailand. A better understanding of the processes mediating viral transmission is therefore essential. In addition, effective vaccines and therapeutic treatments against these viruses require intensive development. During viral replication, viruses interact and exploit the host cellular machinery and metabolism to facilitate viral replication, assembly and to overcome host defensive responses. However, those underlying mechanisms have not been fully revealed. Therefore, our current research aims to investigate the factors mediating viral transmission and to try to understand the molecular mechanisms of virus-host interactions upon virus infection and replication. The uncovered insights in molecular mechanisms may help to develop new approaches for antiviral drug development. With a strong effort, our laboratory has a well-established a fundamental platform in molecular biology and virology that potentially support the future study of new emerging viruses in Thailand.
Full Publications
Khongwichit S, Sornjai W, Jitobaom K, Greenwood M, Greenwood MP, Hitakarun A, Wikan N, Murphy D, Smith DR. A functional interaction between GRP78 and Zika virus E protein. Scientific Reports. 2021 Jan 11;11(1):393.
Care C, Sornjai W, Jaratsittisin J, Hitakarun A, Wikan N, Triwitayakorn K, et al. Discordant activity of kaempferol towards dengue virus and Japanese encephalitis virus. Molecules. 2020;25(5).
Sornjai W, Ramphan S, Wikan N, Auewarakul P, Smith DR. High correlation between Zika virus NS1 antibodies and neutralizing antibodies in selected serum samples from normal healthy Thais. Scientific Reports. 2019 Sep 18;9(1):1-0.
Sornjai W, Jaratsittisin J, Auewarakul P, Wikan N, Smith DR. Analysis of Zika virus neutralizing antibodies in normal healthy Thais. Scientific Reports. 2018; 8(1):17193.
Sornjai W, Khungwanmaythawee K, Svasti S, Fucharoen S, Wintachai P, Yoksan S, et al. Dengue virus infection of erythroid precursor cells is modulated by both thalassemia trait status and virus adaptation. Virology. 2014; 471-473:61-71.