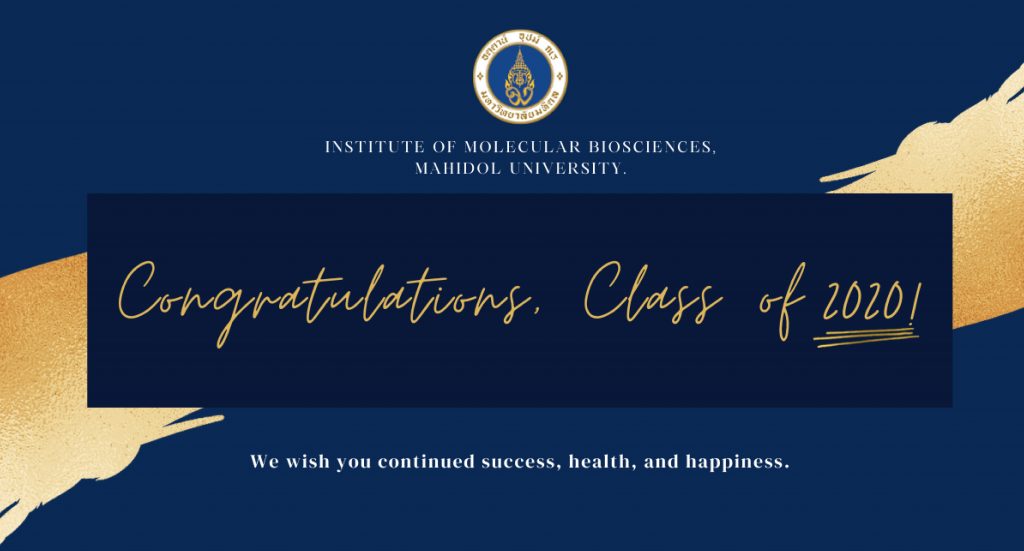 Congratulations, Class of 2020!!
สถาบันชีววิทยาศาสตร์โมเลกุล ขอแสดงความยินดีกับผู้สำเร็จการศึกษาหลักสูตรพันธุศาสตร์ระดับโมเลกุลและพันธุวิศวกรรมศาสตร์ (MGGE) และหลักสูตรประสาทวิทยาศาสตร์ (NS) ประจำปีการศึกษา 2563
Dear MB Graduates,
On behalf of Institute of Molecular Biosciences (MB), I am delighted to congratulate all MB graduates for your success as well as your outstanding contribution to MB research community. I am highly proud of your achievement and hope that your skills and knowledge will further help you develop your career, which is capable of strengthening competitiveness of Thailand. Let the core values MAHIDOL and WE MB shape your future. I wish you all the best for the next step.
Once again, congratulations on the marvelous moment and completion of your degree at Mahidol University!
Narattaphol Charoenphandhu, MD, PhD, AFRS(T)
Distinguished Professor of Physiology
Director of Institute of Molecular Biosciences
ดาวน์โหลดภาพทั้งหมด